Description
Lenny WrapTai is a combination of a MeiTai carrier and a wrap. It has a very comfortable panel that snugs your baby but it also has a four-way wrap straps that will distribute the weight evenly over the shoulders and the upper body. You can use the Lenny WrapTai for front and back carry.
Lenny WrapTai is reversible! Both sides can be worn :)
Every Lenny WrapTai is a wrap conversion which means it is made of the same high quality fabrics we use for manufacturing our wraps :)
All yarn and dyes used for LennyLamb fabrics have the OEKO-TEX® Standard 100 certificate. 
Lenny WrapTai is compliant with the ASTM F2236-14 and EN 13209-2:2006 norms.
Lenny WrapTai is available in two sizes: Mini and Toddler
Mini size:
waist strap length: 105 cm each
shoulder straps length: 205 cm
Maximum child's weight - 20 kg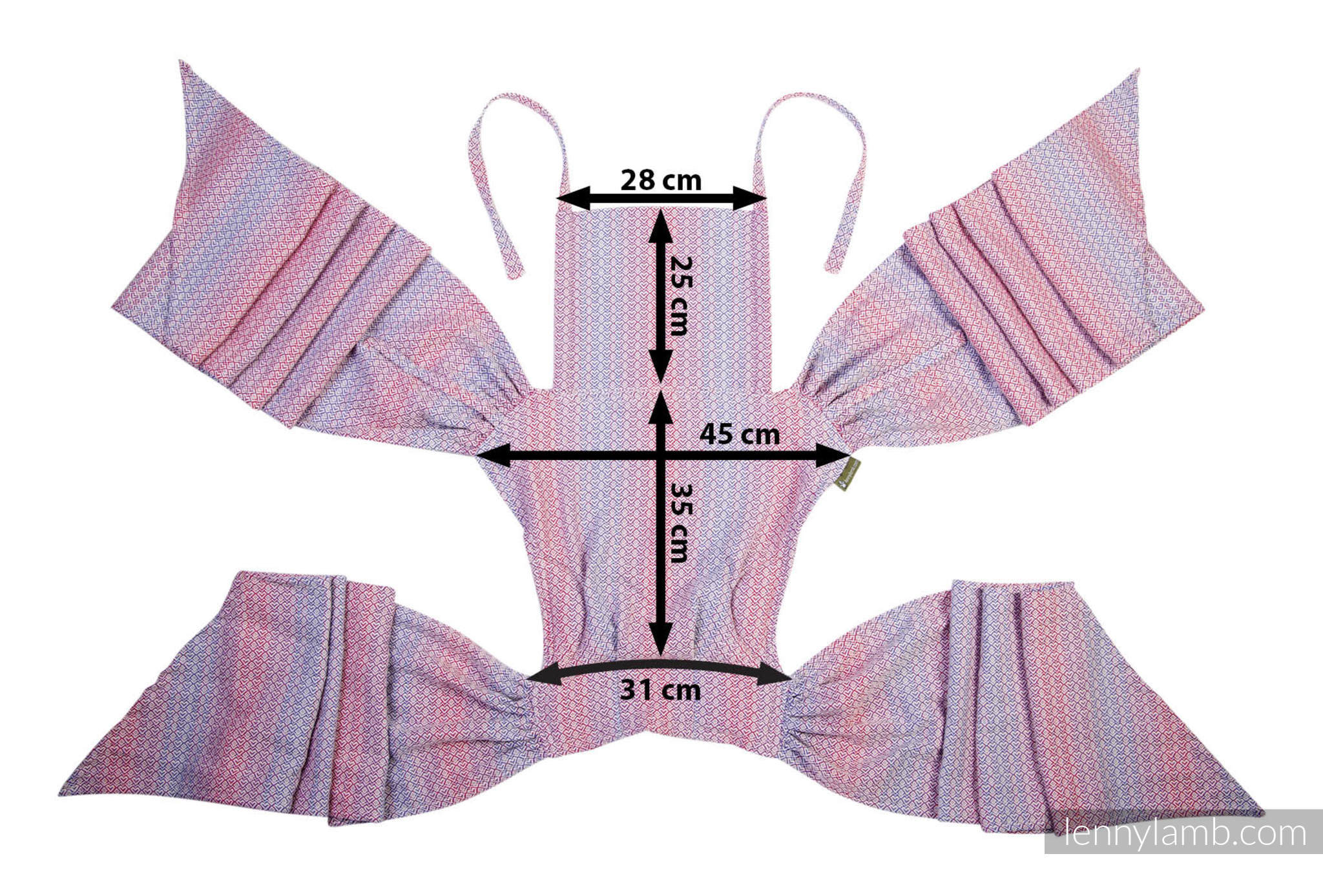 Permissible measurement error is ± 3 cm.
Toddler size:
waist strap length: 105 cm each
shoulder straps length: 205 cm
Maximum child's weight - 20 kg 
Beautiful, cozy and easy to use
The most comfortable carrier I have tried. The perfect compromise between a cozy woven wrap and an easy to use structured carrier. Very easy and quick to use and beautiful as well. I have tried wovens, ring slings, structured carriers and meh dais and this is my absolute favourite!
WrapTai Rainbow Lace J'adore!
WoW!!!! J'adore!! Tellement confortable! Je le traîne partout... Ma poulette adore aussi! Poussière de dodo assurée!!! Facile à installer!
Perfect wrap for both parents
Love this meh dai style wrap - works great for my long, heavy baby and frees up my hands to help my toddler. This style fits both my husband and me well (unlike more structured carriers or stretchy wraps) and the baby gets some great naps in here.
AMAZING!
These carrier wraps are incredible!! I'm immediately ordering a second and maybe a third!!
Decided to try because I wanted to venture into wraps after using only buckle carriers and stretchy wraps, and didn't know where to start. These seemed so easy and they ARE!! So comfortable to wear and so soft!
Best for putting on and off indoors because it does drag on the ground, but washes amazingly if it does get dirty.
Best carrier ever.
Love this wrap tai. Great weight distribution. Easy to use . Highly reccomend. Top pieces are very long to be able to do what they do, so, they drag on the ground while wrapping.
Payment & Security
Your payment information is processed securely. We do not store credit card details nor have access to your credit card information.